State Leaders Call for Safety Awareness on Hot Cars
August 21, 2023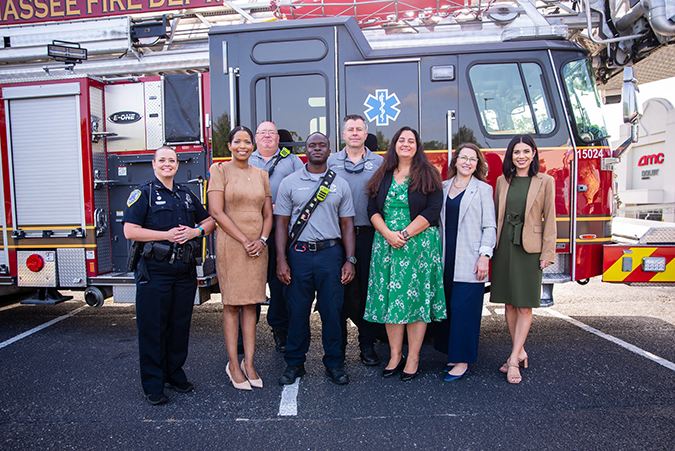 TALLAHASSEE, Fla. — Today, Department of Children and Families Secretary Shevaun Harris, Department of Health Assistant Deputy Secretary for Health Melissa Jordan, Agency for Persons with Disabilities Director Taylor Hatch, and Ounce of Prevention Fund President and CEO Jennifer Ohlsen called for a greater awareness of children left in hot cars. In 2023, six children have died in Florida because of being left in a hot car.
"Leaving a child unattended in a vehicle can cause serious harm to a child or even lead to death. The inside of a car can get hot quickly, especially in Florida, and cause heat stroke to a child. It is crucial for Floridians to check their vehicles before locking their doors and walking away," said Lieutenant Governor Jeanette Nuñez. "If parents and caregivers implement a 'look before you lock' plan, we can avoid these preventable tragedies."
"As the temperatures continue to climb, we want to take this opportunity to remind parents and caregivers of the extreme dangers of leaving a child in a car," said Secretary Shevaun Harris. "During summer months, it's important to take precautions to avoid dangers presented by high temperatures. By spreading awareness, we can hopefully prevent any more tragic heat related deaths."
"We are grateful to our partners for prioritizing and raising awareness regarding precautions to be taken to reduce incidents in hot vehicles for vulnerable populations including individuals with unique abilities." said Taylor Hatch, Director for the Agency for Persons with Disabilities. "We all play a role to be hyper vigilant and check our surroundings, especially those providing transportation services to Floridians with unique abilities. Please understand the supports that are needed and create multiple prompts for checking on all passengers when leaving a vehicle."
"Even just a few minutes in a hot car can lead to heat stroke, which can be fatal," said Florida Department of Health Assistant Deputy for Health Melissa Jordan. "Children are especially vulnerable to this heat risk and should never be left unattended in a car. These injuries and deaths are tragic but preventable. Make sure to always look before you lock."
"We each have a role in protecting children from this preventable tragedy," said Ounce of Prevention Fund of Florida President and CEO Jennifer Ohlsen. "Parents and caregivers, make it your routine to check the back seat every time you get out of your vehicle. Leaving your phone, wallet, purse, or shoe beside the car seat can be a helpful reminder. Early learning providers and schools, make it your strict policy to call and check in on infants and toddlers who do not arrive at the typical time. Community members, be alert in parking areas, and if you see a child alone in a car, stay with the vehicle and call 911 immediately. Together, we can help each other keep Florida's children safe."
Leaving a child in a hot car may seem inconceivable by a parent, but it happens, and the results are often deadly. The inside of a car can get hot, fast, reaching temperatures in the hundreds within minutes. During the summer, many families change their daily routines for vacations or other reasons, and that disruption is a common factor in these tragic incidents. Even though routines may change, it is important to never break the habit of looking in the backseat before leaving a vehicle.
###